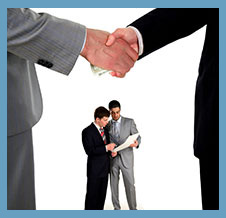 Legal and Consultative Services
We Provide Consultation on New York Real Estate Law
Out-of-state banks doing business in New York often have many questions regarding the state's complex real estate laws. At the same time, local lenders often have questions or ideas and need to find out if their strategies and practices comply with the State. With over 25 years of experience in New York real estate law, the team at Haggerty Munz, PLLC Attorneys at Law, PC, has become a resource that mortgage lending institutions turn to for consultation.

We are always available to answer your questions. Call us at 516-222-0676 for more information.
Our Experience Can Save You From Costly Mistakes
In addition to years of private practice in real estate law, founding attorney George J. Haggerty also represents our firm in the New York legal community and serves on many committees in the New York State Bar Association, such as the New York State Bar Association Executive Committee Real Property Law Section. His extensive knowledge of New York law helps banks gain insights and resolve issues in a number of matters, including:
Lawful structure
Bonding requirements
Legislative analysis as it applies to delivery of legal and banking services
Legal analysis as in regard to trusts, litigation and title issues
Contact Us — We're Here to Help
To learn more about how we can help your institution with co-op financing, refinancing or terminations, or to schedule a free initial consultation with our lawyers, please contact us by e-mail or call us at 516-222-0676.